Birth Date
24 Mar 1943 Age: 74
Education
Bob Jones Academy and University
Spouses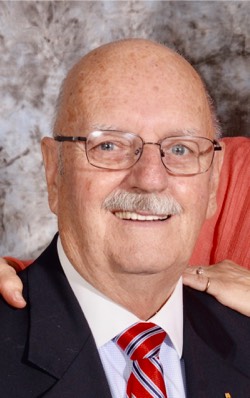 1
Boyd Earl BARNETT

, Source
Birth Date
10 Jun 1938 Age: 79
Occupation
Preacher of the Gospel
Education
Hendersonville (NC) High School and Bob Jones University
Marr Place
Lomax, Henderson Co. Illinois
Notes for Boyd Earl (Spouse 1)
Born on June 10, 1938 and attended Balfour Elementary School, graduating from Hendersonville High School with the class of 1957. He played trombone and drums in the Hendersonville High School Band and served as Drum Major his junior and senior years.

He made his profession of faith in the summer of 1950 at Vacation Bible School at Balfour Baptist Church. He continued to attend Balfour Baptist until Mountain Home Bible Church (now Mountain Home Independent Baptist Church) was established across the street from his home in 1955. He served as Youth Leader and Sunday School Superintendent in this church and was ordained to the gospel ministry by this church in May 1963 after graduating from Bob Jones University in Greenville, SC.

The last two summers of his college years was spent in serving as a summer missionary with North American Indian Mission in the Indian Villages along the coast of British Columbia, Canada. He graduated from Bob Jones in 1963.

On June 6, 1964, he married Georgia Joan Brewington (born on March 24, 1943), from Batavia, Iowa. The wedding took place at the Community Bible Church (now Calvary Baptist Church) in Joan's home town. In September, 1964 they joined the missionary family of Slavic Gospel Association of Chicago in preparation to serving as missionaries in Alaska. By August of 1965, they were (along with their daughter Letha, less than four months old) in the native Aleut village of King Cove, located at the tip of the Alaska Peninsula toward the Aleutian Islands, 650 miles from Anchorage. (Some have called this area a suburb of Siberia.)

He served as missionary pastor of the following churches in Alaska from August 1965 until October 1978: King Cove Bible Chapel, King Cove; Kodiak Bible Chapel, Kodiak; Calvary Baptist Mission, Unalaska; Lake Spenard Baptist, Anchorage; Calvary Baptist, Ninilchik; and Gateway Baptist, Ketchikan. He has been Pastor of Soldotna Baptist Church, in Soldotna, since October 1978. This is a self-supporting church.

He has served in various leadership positions in the Alaska Baptist Association. He serves on the Board of Trustees of Bob Jones University from 1996-2012. He is on the Executiev Board of the Fundamental Baptist Fellowship International.. He is also the state Coordinator of the Alaska Region of the Fundamental Baptist Fellowship International.

In October 2003 he resigened the Soldotna Baptist Church to serve in two mission ministries: Field Representative for Valley Independent Baptist Missions in Texas/Mexico and Director of Midnight Sun Ministries in Alaska.

In June 2012 he moveed back to King Cove to serve as full time pastor King Cove Bible Church. Earl and Joan first went to King Cove in August 1965.

Check my web site:www.akbeb.com for updates.